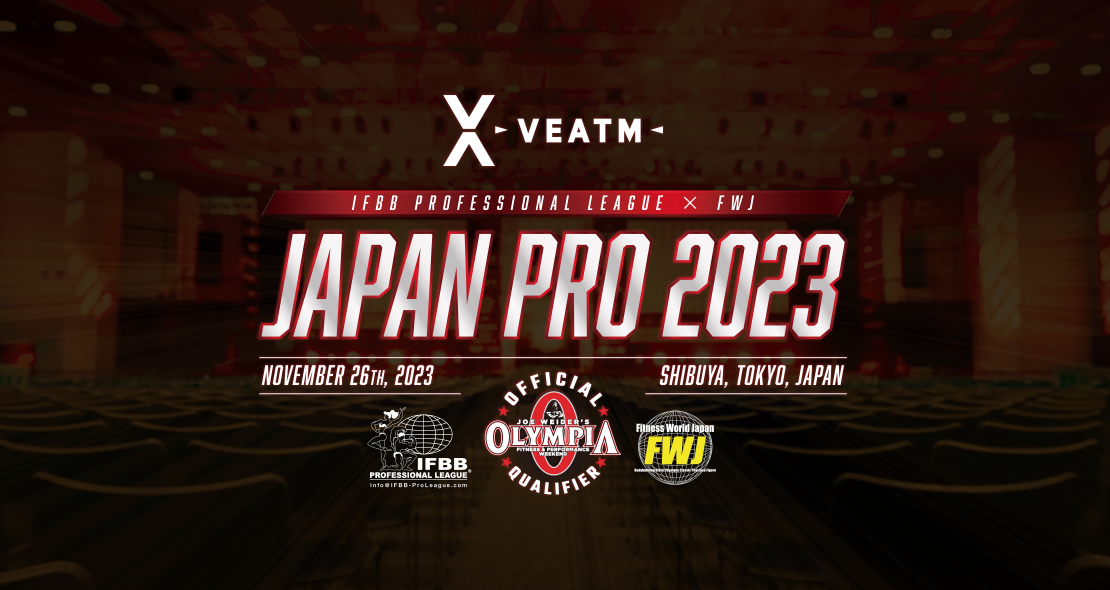 Japan Pro competitors schedule.
Notes:Regarding athlete check-in, it may change depending on the progress of Olympia Amateur held on the same day.
Thank you for your understanding.
Saturday, November 25, 2023

Sunday, November 26, 2023

Location
Bellesalle Shibuya Garden
14:00 p.m.
Pro Athlete meet up in back stage
14:30 p.m.
Japan Pro Opening Ceremony
14:55 p.m.
Judging

Bikini
posing routine
Judging

Men's Physique
posing routine
Judging

Bodybuilding Open
posing routine
Judging

19:05 p.m.
Break
19:35 p.m.
Posedown → Finals (Confirmation Round) → Awards Ceremony
20:55 p.m.
Closing

Precautions

Notes 1.
Bellesalle Shibuya Garden, where the Japan Pro will be held, is holding a fitness expo on the 24th, 25th, and 26th, so there are a lot of people coming and going within the venue. Please take your time and be at ease.
Notes 2.
Athlete numbers will be handed out at the pro-meeting on the 25th. Please do not lose it.
Notes 3.
There is no coloring in the venue. Only FWJ-designated coloring companies can be used for coloring. For reservations, etc., please contact the designated supplier directly.
Notes 4.
The contest will be held in the order of "Bikini", "Men's Physique" and "Bodybuilding", all in the order of "free posing routine" and "comparison".
Notes 5.
Each person has one minute for free poses (posing routine) (maximum 2 minutes for Bodybuilding).
Notes 6.
One "backstage support person" and one "spectator ticket B seat" are included free of charge for each participating pro athletes.
The backstage support neck strap and wristband, and the spectator ticket and wristband will be handed out at the pro-meeting on Friday the 25th. Please do not lose them.
Notes 7.
One backstage support person can be either a pump-up support person or a photographer. If you wish to add an additional backstage support person, you may do so by paying 15,000 yen (tax included) in cash at check-in on the 25th (maximum of 2 persons backstage).
Notes 8.
Backstage photography is limited to smartphones.
No videotaping or photography of any kind is allowed inside the contest venue. (Filming requires application and permission.)
If you wish to take photographs with a single-lens reflex camera or other camera, you must apply in advance for a photography permit, which will be released at a later date.
Notes 9.
Please be punctual for the check-in on the 25th and the assembly of athletes on the 26th, the day of the contest.